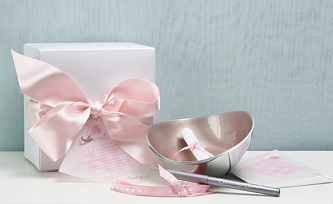 Baby Blessings Bowl

The Blessings Bowl® for Baby has a slightly different twist: its purpose is to confer a wish, hope, or blessings upon the newborn. The perfect gift for showers, baptisms, and new births, this set has rich double-faced satin ribbon and sweetly elegant poetry.

This set includes pearl gray box with ribbon, hammered aluminum bowl, 12 specialty papers in envelope, 12 lengths of dotted ribbon, pen, poem cards, and instructions.
Available in blue and pink.